Sulfenamide Pre-dispersed Rubber Accelerator CBS-80
N-cyclohexyl-2-benzothiazolesulphenamide
C13H16N2S2
M.W.: 264.4
CAS: 95-33-0
EINECS: 202-411-2

PROPERTIES:
Vulcanization accelerator CBS can prolong scorching time of rubber compounds, high processing safety and fast vulcanization rate. It can be used alone in low-sulfur vulcanization, might as well can be used together with dithio- carbamates or thiurams. Its vulcanizate has excellent properties of anti-ageing and compres- sion set resistance. It can obviously shorten scorching time of rubber compounds together with dithiocarbamates and thiurams. Thioureas have obvious effect on secondary acceleration to CBS, especially in the low-sulfur rubber compounds. It can delay scorching and improve processing safety in thiols and thiurams rubber compounds.

DOSAGE:
For NR:primary accelerator: 0.5-1.0phr with 2.5-3.5phr sulfur; For SBR: 1.0-1.5phr combine with 0-0.2 thiurams accelerators and 1.5-2.5phr sulfur.

TYPICAL VALUES:
Melting point: Min 96℃
Purity: Min 98%
Free amine content: Max 0.5%
Ash content(950℃,2h): Max 0.4%
Volatile content: Max 0.5%
63μm sieve residue: Max 0.5%

PRODUCT

Active

Content (%)

Appearance

Filtration

(μm)

Binder

Sulfur Element

(%)

Density (g/cm3)

Actmix®

CBS-80G/C

80

Blue Granules

-

EPDM/EVM

19.0

1.05
Compared to traditional CBS powders, Actmix®CBS-80GE/C allows:
Dust free products with a complete filtration up to 100µm, no skin sensitization, health guard of operators.
Effective guarantee of stability and activity of CBS due to pre-dispersed masterbatch.
Tack free products at room temperature, convenience and accuracy on ingredients.
Lower Mooney viscosity at lower temperature (50℃), higher quality of dispersion.
Impurity free, blocked filter free of extrusive products, scrap rate reduction and higher productivity thanks to filtration.
Wider compatibility with other elastomers.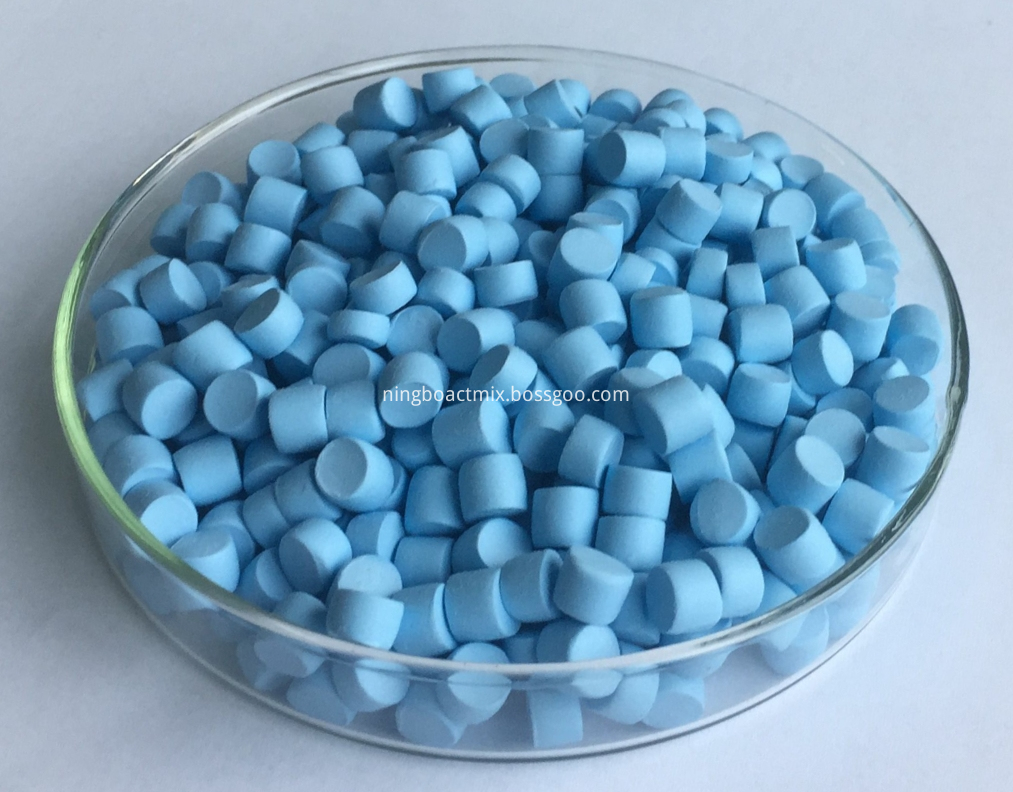 We are Ningbo Actmix Rubber Chemicals Co., Ltd, a leading manufacturer of Polymer bound pre-dispersed rubber chemicals& additives masterbatch;
Specialy used for automotive industry, with high quality and competitive price.
We have passed IATF16949, ISO14001 & OHSAS18001 Certifications.
Our end-customers include:
* Hutchinson France/Spain/Brazil plants
* Cooper Standard Auto Parts China/Brazil/Korea/Europe plants;
* Nishikawa Seal System(China/India/Japan plants);
* Kinugawa Rubber Industry(China/Japan plants);
* ASIMCO (China plant)
* Hexpol Europe/China plants
Actmix®Pre-dispersed Rubber Chemicals Masterbatch range:
1. Thiazole, Thiuram, Dithiocarbamate, Guandine and Thiourea Accelerators, CBS-80, CTP-80,DPG-80, MBT-80, MBTS-75,TBBS-75, TBzTD-70, TDEC-75, TMTD-80, ZBEC-70 etc
2. Vulcanizing Agent, S-80, IS60-75, IS90-65, DTDM-80, HMDC-70 etc.
3. Antidegradant, TMQ, 6PPD etc.
4. Scorching Retarders, CTP-80, Retarder E-80 etc.
5. Foaming Agent, ADC-75, OBSH-75 etc.
6. Eco-friendly Accelerator, ZDTP-50, TP-50, Retarder E-80, ZBEC-70, TBzTD-70, TiBTD-80 etc.
Actmix®Pre-dispersed rubber chemicals masterbatch advantages:
1. No tack phenomenon
2. Higher efficiency
3. Faster dispersion
4. No loss of material during mixing
5. Better product stability during storage
6. High process reliability & consistency
Actmix®Pre-dispersed rubber chemicals assist customers to achieve a better economical performance:
1. Homogeneous dispersion & better quality & scrap rate reduction
2. Higher productivity & active material reduction
3. Increase of the reliability
4. Heathly work improvement & reduction of the PPE costs & ease of handling
5. Improvement of cleaning process & lower environmental footprint
Actmix®Pre-dispersed rubber chemicals masterbatch can be applied for:
1. Automotive rubber seal strip
2. Technical rubber parts, wiper blades, seal, hose, belt, anti-vibratory and soundproof parts, etc.
3. Rubber tires
4. Rubber shoes sole, boots etc
We have distributors in more than 15 countries and regions such as Germany, Russia, Poland, Turkey, Japan, Korea, Brazil, India, Thailand etc. We can customize products as per customers' need.
Welcome to contact us any time!
Ningbo Actmix Rubber Chemicals Co.,Ltd.
Website: http://www.actmix.cn/
Looking for ideal Sulfenamide Rubber Accelerator CBS-80 Manufacturer & supplier ? We have a wide selection at great prices to help you get creative. All the Stained Color
Rubber Chemicals & Additives
are quality guaranteed. We are China Origin Factory of Delayed Accelerator for Sulfur-vulcanization. If you have any question, please feel free to contact us.