Pre-dispersed Rubber Organic Blowing Agent Actmix®OBSH-50GE
Pre-dispersed Blowing Agent OBSH-50
Organic Blowing Agent for Sponge Foaming

Pre-dispersed Organic Blowing Agent OBSH-50
Diphenyloxide-4,4`-disulphohydrazide
C12H14N4O5S2
M.W.: 358.39
CAS: 80-51-3
EINECS: 201-286-1

PROPERTIES:
OBSH is an organic foaming agent for rubbers which is activated at 150℃ and release nitrogen. Foaming temperature can be reduced by addition of proper foaming activators. Foam quality can be promoted to an extreme by logical design and matching of foaming and vulcanizing rates.

OBSH TYPICAL VALUES:
Melting point: 150-164℃
Purity: Min 98%
Heating loss content: Max 0.8%
45μm sieve residue: Max 0.5%
PRODUCT

Active

Content (%)

Appearance

Filtration

(µm)

Binder

Gas Evolution

(ml/g)

Density (g/cm3)

Actmix®

OBSH-50GE

50

White to Grey-white Granules

-

EPDM/EVM

63

1.35
Compared to traditional OBSH powders, Actmix®OBSH-50GE allows:
Dust free products with 10-12µm mean size grains of OBSH, production environment improver.
Lower decomposition temperature and effective guarantee of activity of OBSH due to pre-dispersed masterbatch and special formula.
Tack free products at room temperature, convenience and accuracy on ingredients.
Lower Mooney viscosity at lower temperature (50℃), higher quality of dispersion, homogeneous apertures of foam products.
Wider compatibility with other elastomers.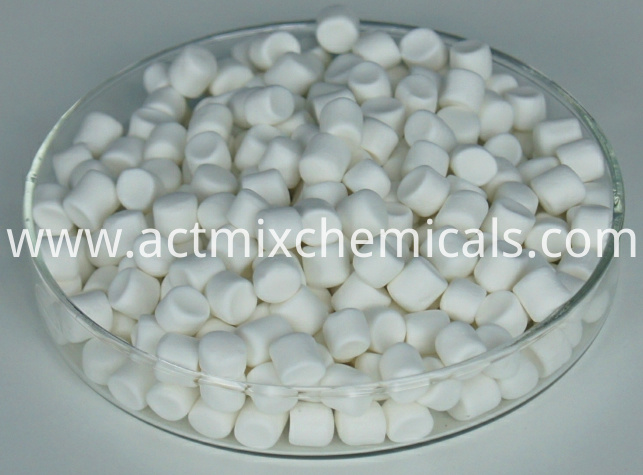 We are Ningbo Actmix Rubber Chemicals Co., Ltd, a leading manufacturer of Polymer bound pre-dispersed rubber chemicals& additives masterbatch;
Specialy used for automotive industry, with high quality and competitive price.
We have passed IATF16949, ISO14001 & OHSAS18001 Certifications.
Our end-customers include:
* Hutchinson France/Spain/Brazil plants
* Cooper Standard Auto Parts China/Brazil/Korea/Europe plants;
* Nishikawa Seal System(China/India/Japan plants);
* Kinugawa Rubber Industry(China/Japan plants);
* ASIMCO (China plant)
* Hexpol Europe/China plants
Actmix®Pre-dispersed Rubber Chemicals Masterbatch range:
1. Thiazole, Thiuram, Dithiocarbamate, Guandine and Thiourea Accelerators, CBS-80, CTP-80,DPG-80, MBT-80, MBTS-75,TBBS-75, TBzTD-70, TDEC-75, TMTD-80, ZBEC-70 etc
2. Vulcanizing Agent, S-80, IS60-75, IS90-65, DTDM-80, HMDC-70 etc.
3. Antidegradant, TMQ, 6PPD etc.
4. Scorching Retarders, CTP-80, Retarder E-80 etc.
5. Foaming Agent, ADC-75, OBSH-75 etc.
6. Eco-friendly Accelerator, ZDTP-50, TP-50, Retarder E-80, ZBEC-70, TBzTD-70, TiBTD-80 etc.
Actmix®Pre-dispersed rubber chemicals masterbatch advantages:
1. No tack phenomenon
2. Higher efficiency
3. Faster dispersion
4. No loss of material during mixing
5. Better product stability during storage
6. High process reliability & consistency
Actmix®Pre-dispersed rubber chemicals assist customers to achieve a better economical performance:
1. Homogeneous dispersion & better quality & scrap rate reduction
2. Higher productivity & active material reduction
3. Increase of the reliability
4. Heathly work improvement & reduction of the PPE costs & ease of handling
5. Improvement of cleaning process & lower environmental footprint
Actmix®Pre-dispersed rubber chemicals masterbatch can be applied for:
1. Automotive rubber seal strip
2. Technical rubber parts, wiper blades, seal, hose, belt, anti-vibratory and soundproof parts, etc.
3. Rubber tires
4. Rubber shoes sole, boots etc
We have distributors in more than 15 countries and regions such as Germany, Russia, Poland, Turkey, Japan, Korea, Brazil, India, Thailand etc. We can customize products as per customers' need.
Welcome to contact us any time!
Ningbo Actmix Rubber Chemicals Co.,Ltd.
Website: http://www.actmix.cn/
Looking for ideal Pre-dispersed Blowing Agent OBSH-50 Manufacturer & supplier ? We have a wide selection at great prices to help you get creative. All the Organic Blowing Agent for Sponge Foaming are quality guaranteed. We are China Origin Factory of Pre-dispersed Organic Blowing Agent OBSH-50. If you have any question, please feel free to contact us.