Pre-dispersed Rubber Biocide-algaecide Agent Actmix®BCM-80GE
Carbendazim(benzimidazole-derivative)
C9H9N3O2
M.W.: 191.19
CAS No.: 10605-21-7
EINECS No.: 234-232-0
PROPERTIES:
Carbendazim is also called the bacteria, benzimidazole 44, it is a kind of high-efficiency, systemic broad-spectrum biocide-algaecide agent, blong to benzimidazole compounds and have stable chemical properties, inside vacuum treatment and protection. It is widely used as biocide-algaecide agent for rubber.
BCM TYPICAL VALUES:
Purity: Min 97%
Ash content: Max 0.5 %
Heat loss: Max 1.0 %
150µm sieve residue: Max 0.5 %
PACKAGING&STORAGE:
N.W. 25kg/carton lined PE bag; N.W. 600 kg/pallet.
Shelf-life: 1 year in its original packaging
Stored in a dry and cool place; away from the directly heat resource or sunlight.
PRODUCT

Active

Content (%)

Appearance

Filtration

(µm)

Binder

Nitrogen Content

(%)

Density (g/cm3)

Actmix® BCM-80GE F140

80

White to Grey Granules

140

EPDM/EVM

17.0

1.17
Compared to traditional BCM powder, Actmix®BCM-80GE F140 allows:
Dust free products with a complete filtration up to 100µm, no skin sensitization, health guard of operators.
Effective guarantee of activity of BCM-80 due to pre-dispersed masterbatch.
Tack free products at room temperature, convenience and accuracy on ingredients.
Lower Mooney viscosity at lower temperature (50℃), higher quality of dispersion.
Impurity free, blocked filter free of extrusive products, scrap rate reduction and higher productivity thanks to filtration.
Wider compatibility with other elastomers.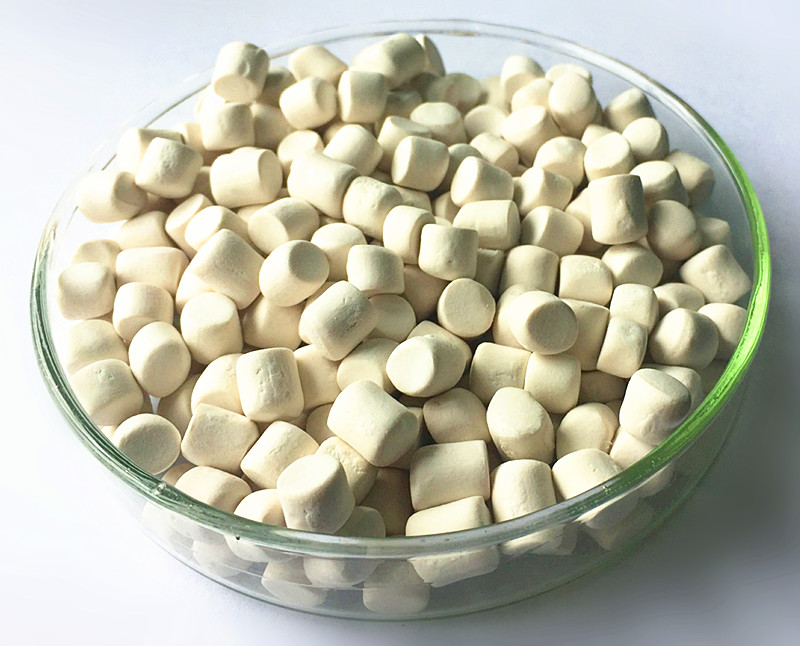 We are Ningbo Actmix Rubber Chemicals Co., Ltd, a professional manufacturer of pre-dispersed Rubber Chemicals & Additives, widely used for automotive industry, footwears, cables etc, with high quality and competitive price.
Our end-customers include many manufacturers of automotive rubber seals, tires, cables, footwears worldwide.
* Hutchinson France/Spain/Brazil plants
* Cooper Standard Auto Parts China/Brazil/Korea/Europe plants;
* Nishikawa Seal System(China/India/Japan plants);
* Kinugawa Rubber Industry(China/Japan plants);
* Hexpol Europe/China plants
* La coste/Thailand/Europe plants
* Le Coq Sportif/Thailand/Europe plants
Actmix® rubber chemicals can be applied for:
1. Automotive rubber seal strip
2. Technical rubber parts, wiper blades, seal, hose, belt, anti-vibratory etc.
3. Rubber tires
4. Rubber shoes sole, boots
5. Rubber cables
6. Rubber band etc
Actmix®Pre-dispersed Rubber Chemicals Masterbatch range:
1. Thiazole, Thiuram, Dithiocarbamate, Guandine and Thiourea Accelerators
2. Vulcanizing Agent, Vulcanizing activitor.
3. Antioxidant
5. Foaming Agent
6. Eco-friendly Accelerator: ZDTP-50, Retarder E-80, ZBEC-70, TBzTD-70 etc.
Actmix® Stained color rubber chemicals masterbatch, for easily identification!
ACTMIX can also customize products according to customers'need.
Actmix®Pre-dispersed rubber chemicals masterbatch comply with environmental requirements:
1. Our masterbatch meets the requirements of RoHS2.0, Pahs, Phthalates, and 183 Substances of high-concern(SVHC).
2. Many substances have been registered with REACH, comply with European standards.
Actmix®Pre-dispersed rubber chemicals masterbatch advantages:
1. No tack phenomenon
2. Higher efficiency
3. Faster dispersion
4. No loss of material during mixing
5. Better product stability during storage
6. High process reliability & consistency
Actmix®Pre-dispersed rubber chemicals assist customers to achieve a better economical performance:
1. Homogeneous dispersion & better quality & scrap rate reduction
2. Higher productivity & active material reduction
3. Increase of the reliability
4. Heathly work improvement & reduction of the PPE costs & ease of handling
5. Improvement of cleaning process & lower environmental footprint
We now have distributors in more than 15 countries such as Germany, Russia, Poland, Japan, Korea, Brazil, Thailand etc. We can customize products as per customers' need.
If needed, we can supply small qty sample for lab trial any time.
Welcome to send us inquiry!
Looking for ideal CAS NO 10605-21-7 Carbendazim BCM-80 Manufacturer & supplier ? We have a wide selection at great prices to help you get creative. All the Lower Toxicity Absorption Anti-algae Agent are quality guaranteed. We are China Origin Factory of Effective Biocide-algaecide Agent BCM-80. If you have any question, please feel free to contact us.
Product Categories : Pre-dispersed Rubber Additives > Rubber Hygroscopic Agent Rubber Biocide-algaecide Agent