Slow-speed Rubber Vulcanizing Accelerator DZ Actmix®DCBS-80GE
Delay Scorching Accelerator DCBS-80

Slow Curing Speed Accelerator DCBS
Delayed Action Sulfenamide Accelerator DCBS
Full REACH registration!
N,N-Dicyclohexyl-2-benzothiazolsulfene amide
C19H26N2S2
M.W. 346.55
CAS No.: 4979-32-2
EINECS No.: 225-625-8
PROPERTIES:
Actmix®DCBS-80 Compared with CBS, TBBS, MBS,DCBS scorch time and curing time is long, modulus of vulcanized rubber is low. The homologous physical properties to obtain need higher dosage. to increase the amound to obtain the corresponding properties. Usually used in the steel wire rubber formula to improve the bonding strength. DCBS can delay scoring, improve process safety. DCBS-80 can make the rubber compound with long scorching, safety processing and high curing speed. It can be used alone in the low sulphur vulcanization, also can be used together with dithiocarbamate salts or Thiuram Accelerators, the vulcanizates has good aging resistance and compression set resistance.
Recommend Dosage:
For NR: primary accelerator: 0.5-1.0phr with 2.5-3.5phr sulfur;
For SBR: 1.0-1.5phr combine with 0-0.2 thiuram accelerators and 1.5-2.5phr sulfur.
DCBS TYPICAL VALUES:
Melting point:Min 97℃
Purity:Min 98%
Free amine:Max 0.4%
Ash content: Max 0.3%
Heat loss:Max 0.3 %
63μm sieve residue:Max 0.5%
PACKAGING&STORAGE:
N.W. 25kg/carton lined PE bag; N.W. 600 kg/pallet.
Shelf-life: 1 year in its original packaging,
Stored in a dry and cool place; away from the directly resource of heat or sunlight.
PRODUCT

Active

Content (%)

Appearance

Filtration

(μm)

Binder

Sulfur Content

(%)

Density (g/cm3)

Actmix® DCBS-80GE F140

80

Beige Granules

140

EPDM/EVM

14.8

1.03
* Dust free, healthy for the workers, better for environmental.
* Tack free under room temperature, ideal for automatic weighing
* Lower Mooney viscosity, with excellent dispersibility.
* Scrap rate reduction after filtration.
* Wider compatibility with other elastomer.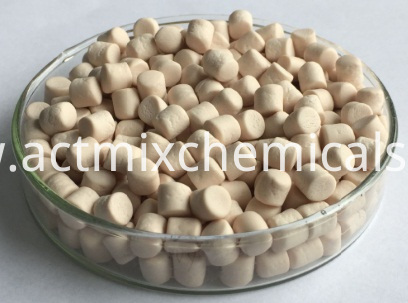 Looking for ideal Delay Scorching Accelerator DCBS-80 Manufacturer & supplier ? We have a wide selection at great prices to help you get creative. All the Slow Curing Speed Accelerator DCBS are quality guaranteed. We are China Origin Factory of Delayed Action Sulfenamide Accelerator DCBS. If you have any question, please feel free to contact us.
Product Categories : Pre-dispersed Rubber Additives > Rubber Accelerator Masterbatch