Rubber Chemicals Masterbatch Secondary Accelerator Actmix®TDEC-75GE TL-75
Predispersed Rubber Chemicals Masterbatch TDEC-75
Rubber Chemicals Secondary Accelerator TDEC-75
Secondary Accelerator Masterbatch TL-75

Full REACH registration!
Tellurium diethyldithiocarbamate
C20H40N4S8Te
M.W.: 720.68
CAS: 20941-65-5
EINECS: 244-121-9

PROPERTIES:
Actmix®TDEC-75GE combined with thiazoles, thurams and dithiocarbamates accelerators can accelerate sulfuration of EPDM and IIR. A little TDEC can shorten the sulfuration time. Moreover, it is particularly suitable for high oil content soft rubber compounds such as low-hardness solid EPDM seals or spongy seals due to reduction of sulfuration rate by a great deal of softening oil.

DOSAGE:
Max 0.5phr to avoid blooming.

APPLICATIONS:
Vehicle and building seals, vehicle hoses, steamproof & acidproof hoses, cable jacket, insulated products.

TYPICAL VALUES:
Initial melting point: 108℃
Purity: Min 98%
Tellurium content: 16.5-19.0%
Heating loss content: Max 0.5%
63μm sieve residue: Max 0.5%
PRODUCT

Active

Content (%)

Appearance

Filtration

(μm)

Binder

Sulfur Content

(%)

Density (g/cm3)

Actmix®

TDEC-75GE F140

75

Orange-yellow Granules

140

EPDM/EVM

26.0

1.23
*Binder type can be customized. Except for SBR, others binders, such as EPDM/EVM, NBR, AR also can be available for.
SAFETY&TOXICITY:
Please refer to related SDS.
PACKAGING&STORAGE:
Net weight 25kg/carton lined PE bags; Net weight 600 kg/pallet.
Shelf-life : 1 year in its original packaging
Stored in a dry and cool place.
Advantages of
Actmix®
Pre-dispersed rubber chemicals masterbatch are with following advantage:
* Dust free, healthy for the workers, better for environmental.
* Tack free under room temperature, ideal for automatic weighing
* Lower Mooney viscosity, with excellent dispersibility.
* Scrap rate reduction after filtration.
* Wider compatibility with other elastomer.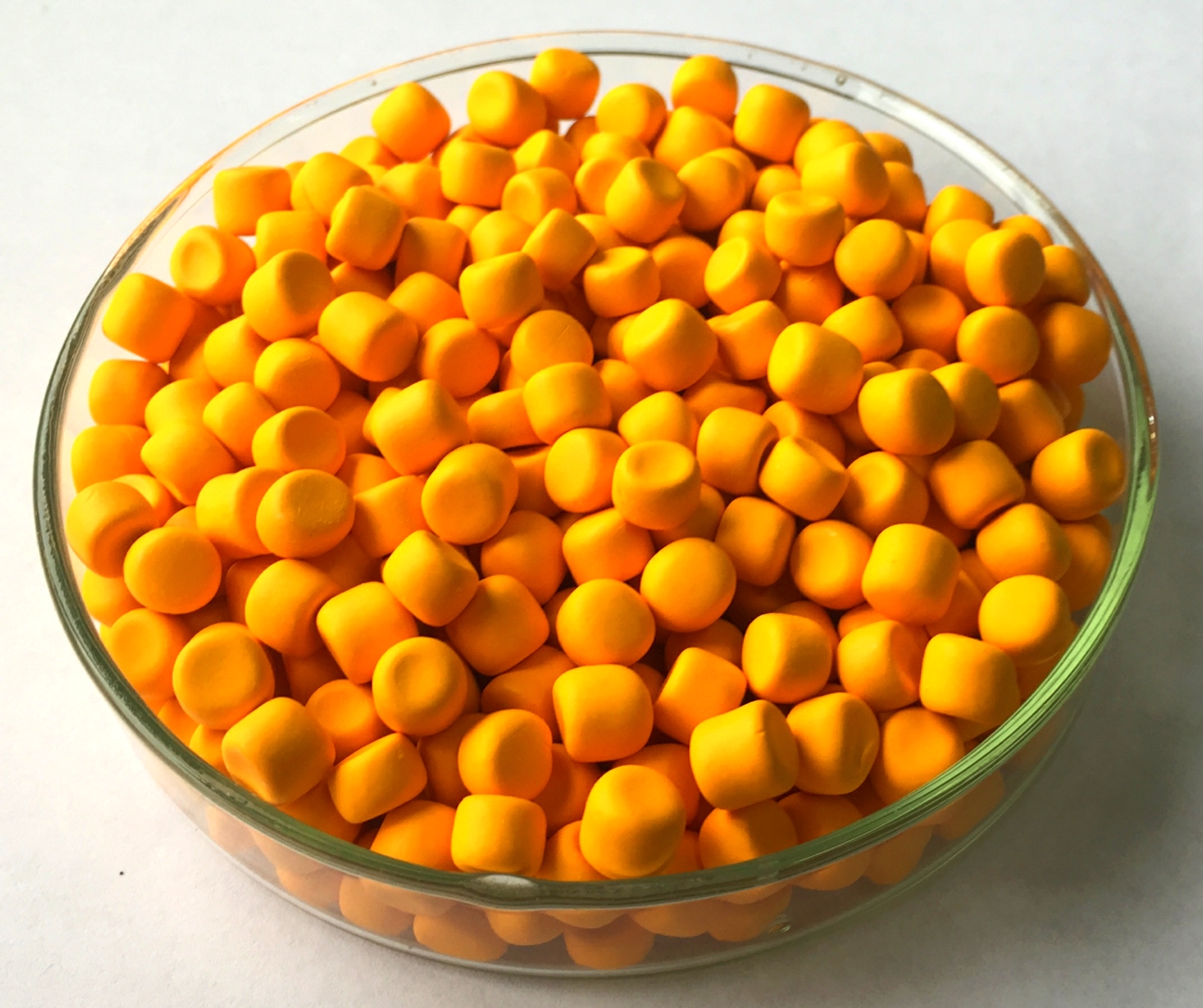 List of Actmix®Pre-dispersed Rubber Chemicals & Additives

No.

Chemical name

Active material

Active Content(%)

1

Actmix® CBS-80GE F140

N-cyclohexyl-2-benzothiazyl sulfenamide

80

2

Actmix® DOTG-75GA F140

N,N'-di-o-tolyl guanidine

75

3

Actmix® DPG-80GE F140

N,N'-diphenyl guanidine

80

4

Actmix® DPTT-70GE F140

Dipentamethylene thiuram tetrasulfide

70

5

Actmix® ETU-80GE F140

N,N'-ethylene thiourea

80

6

Actmix® MBT-80GE F140

2-mercapto-benzthiazol

80

7

Actmix® MBTS-75GE F140

Dibenzothiazyl disulphide

75

8

Actmix® TBBS-80GE F200

N-tert.-butyl-2-benzothiazyl sulphenamide

80

9

Actmix® TBzTD-70GE F140

Tetrabenzylthiuram disulphide

70

10

Actmix® TDEC-75GE F140

Tellurium diethyl dithiocarbamate

75

11

Actmix® TETD-75GE F200

Tetraethylthiuram disulphide

75

12

Actmix® TMTD-80GE F140

Tetramethylthiuram disulphide

80

13

Actmix® TMTM-80GE F500

Tetramethylthiuram disulphide

80

14

Actmix® ZBEC-70GE F140

Zinc dibenzyl dithiocarbamate

70

15

Actmix® ZDBC-80GE F140

Zinc dibutyl dithiocarbamate

80

16

Actmix® ZDEC-75GE F140

Zinc diethyl dithiocarbamate

75

17

Actmix® ZDMC-80GE F140

Zinc dimethyl dithiocarbamate

80

18

Actmix® ZDTP-50GE F500

50

19

Actmix® ZDT-50GE F500

Zinc dialkyldithiophosphate

50

20

Actmix® ZBOP-50GE F140

Zinc dialkyldithiophosphate

50

21

Actmix® TP-50GE F140

Zinc dialkyldithiophosphate

50

22

Actmix® ZBPD-50GE F140

50

23

Actmix® ZAT-70GE

Dithiocarbamate phosphate

70

24

Actmix® ACT-70GA/XLA-60

Comprehensive accelerator

70

25

Actmix® DCBS-80GE F140

N,N-Dicyclohexyl-2-Benzothiazole Sulfenamide

80

26

Actmix® TiO2-80GE F140

Titanium dioxide

80

27

Actmix® MBS-80GE F200

Benzothiazyl-2-sulphene morpholide

80

28

Actmix® ZMBT-70GE F120

Zinc 2-mercaptobenzothiazole

70

29

Actmix® DETU-80GE F500

N,N'-Diethylthiocarbarnide

80

30

Actmix®TiBTD-80PE

Isobutyl thiuram disulfide

80

31

Actmix® TBTD-40

Tetrabutyl Thiuram Disulfide

40

32

Actmix® TBTD-55PE

Tetrabutyl Thiuram Disulfide

55

33

Actmix®MTT-80GE F500

3-methyl-2-Thiazolidinethione

80
Actmix®Pre-dispersed rubber chemicals masterbatch advantages:
1. No tack phenomenon
2. Higher efficiency
3. Faster dispersion
4. No loss of material during mixing
5. Better product stability during storage
6. High process reliability & consistency
Actmix®Pre-dispersed rubber chemicals assist customers to achieve a better economical performance:
1. Homogeneous dispersion & better quality & scrap rate reduction
2. Higher productivity & active material reduction
3. Increase of the reliability
4. Heathly work improvement & reduction of the PPE costs & ease of handling
5. Improvement of cleaning process & lower environmental footprint
We now have distributors in more than 15 countries such as Germany, Russia, Poland, Japan, Korea, Brazil, Thailand etc. We can customize products as per customers' need.
If needed, we can supply small qty sample for lab trial any time.
Welcome to send us inquiry!
Looking for ideal Predispersed Rubber Additives Masterbatch TDEC-75 Manufacturer & supplier ? We have a wide selection at great prices to help you get creative. All the Polymer-bound Accelerator TDEC-75 are quality guaranteed. We are China Origin Factory of Secondary Accelerator Masterbatch TL-75. If you have any question, please feel free to contact us.
Product Categories : Pre-dispersed Rubber Additives > Rubber Accelerator Masterbatch